Full Roll 30.5m x 12.20m wide Firestone PondGard EPDM Rubber Pond Liner (1.02mm)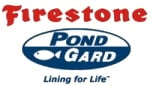 Authorised Firestone trained dealer, selling EPDM Pondgard & advising since 1996
Best pondliner available worldwide. The perfect long-lasting choice for all garden ponds, water gardens, fish ponds, natural swimming ponds and dams. Full rolls give you a large discount off our base price.
Also sold in Cut-Off-The-Roll quantities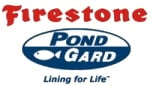 Authorised Firestone trained dealer, selling EPDM Pondgard & advising since 1996
Please email a request for a free PondGard EPDM sample to be sent in an envelope.
Buy Firestone Pondgard EPDM Rubber 1.02mm pond liner in Full Rolls from Rock Around The Block - The Garden Hardware Experts. We have been providing advice on the installation and use of Firestone Pondgard EPDM Rubber 1.02mm pond liner since 1996.
FULL ROLL (30.5m Length).
Why use Firestone PondGard EPDM Pondliner over plastic liners?
Firestone EPDM rubber dam liner has known proven longevity, since 1973 in full sun, & is still performing normally
Fully DIY repairable it's entire life
Aquatic life & fish safe certified.
No problems to fold & pleat which can potentially cause fatigue & cracks in plastic liners
300% elongation capability. It is s-t-r-e-t-c-h-y and pliable, not stiff
Copes with temperatures from -45 degC to +130degC
UV stabilised with high carbon black content to easily cope with full hot sun exposure without degradation. May be chalky on the surface after 40 years, but still remains flexible.
Safe in manufacture & use
30.5m & 15.25m rolls include widths of  3.05m, 4.88m, 6.10m, 7.62m, 9.15m, 12.20m, 15.25m
Also sold in Cut-Off-The-Roll quantities
Do you want Geotextile Underlay?
Do you require Seaming and Detailing Accessories?

Help construct an effective waterfall or watercourse with our Aquascape Black Expanding Foam.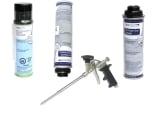 SHIPPING FEE: $29.95 - Any ordered quantity delivered Australia Wide (Mainland and Tasmania)
Panel area: 372.1 sq m
Weight: 475kg
More Information : It is recommended to use these products and accessories in accordance with the guidelines outlined in Firestone Lining Systems - Installation Guidelines. Please refer to our Technical Information and Instructional Videos sub-categories for correct techniques while using these products.