Fiskars StaySharp Max Reel Mower 460mm Push Cylinder Reel Mower 113880, 1000591

Founded in 1649, Fiskars is Finland's oldest company. 
ALL IT TAKES IS YOU - No petrol, cords or batteries

Mow anytime you like in peace & quiet
The world's most advanced design of this well engineered cylindrical reel mower makes it 60% easier to push and offers an eco-friendly, easy way to mow your lawn.
Watch the three videos - scroll down the page. Check Amazon & other reviews. You'll soon be convinced!
If you care for your lawn, you'll never use a powered rotary mower again. Plus it gives a much better result with ease in peace & quiet.
Shipping Australia wide is $9.95
 Full Australian technical support

Founded in 1649, Fiskars is Finland's oldest company.
Please note:  The same basic mower uses a variety of code numbers in USA and Europe, being: Fiskars 6201, Fiskars 62016935, Fiskars 362050-1001 (US only), Fiskars 113880, Fiskars 1000591
This item must be shipped to a physical address - not a PO Box. Shipping via Couriers Please Australia wide
 Full Australian technical support  Shipping Australia wide is $9.95
Video 1: Why choose a Fiskars StaySharp Max Cylinder Reel Mower?
The most respected push mower in the world - Mostly 5 Stars *****


If you care for your lawn, you'll never use a petrol or electric powered rotary mower again.
This mower quietly gives a much better and easier result.
The StaySharp™ Max Reel Mower combines patent-pending technology with superior ergonomics to deliver best-in-class cutting performance without petrol, oil, charging, the hassle of cords or the noise created by other mowers. It features an InertiaDrive Reel for twice the cutting power of standard push cylindrical reel mowers. Don't compare this to the old push mower that you may remember from last century. If your lawn is just like that shown in the video, it will end up neater, not scoured or scalped and very much healthier. This is a classy well balanced and strongly engineered human-powered low maintenance machine.

Easier to push and faster to use than any petrol or electric mower on a good open lawn.
ALL IT TAKES IS YOU - No petrol, cords, battery or pollution.
Features:
Eight cutting height settings within the range from a nominal 25mm–100mm (Nominal 1" - 4"). This Patent-pending VersaCut™ Technology offers cut height to provide best-in-class cutting, even when you have missed a week of mowing, plus one-touch height adjustment for comfortable use. Please note:. It is important to cut your lawn longer than short to promote healthy root growth and lush green leaf. Avoid any lower than the 3rd lowest setting for soft buffalo lawn.
The smart design of this eco-friendly reel mower lets you mow without the hassles of petrol, oil, battery charging, electrical cords or the annoyance of loud engine noise.
Your lawn will be much healthier and be left beautifully presented in comparison to the slashing & scalping action of a rotary mower
Received Popular Mechanics 2010 Green Design Award and recommended by Consumer Reports over other reel mowers among other accolades

A combination of advanced technologies make the StaySharp™ Max Reel Mower 40% easier to push than other reel mowers
Patent-pending InertiaDrive™ Technology combines large diameter cutting reel with thick blades to store energy (like a flywheel). It delivers twice the cutting power to blast through twigs, weeds and tough spots that would jam other reel mowers
Exclusive StaySharp™ Cutting System uses precision-ground, hardened steel blades to cut grass without touching, greatly reducing friction and blade wear for long-lasting performance without costly annual blade sharpening
With proper care using it on good lawn only, this mower may not need sharpening at all. If sharpening is ever required, simply use Auto Valve Lapping Compound and an electric drill in reverse. See Video 3 below for details
Inset wheel design allows the blades to extend across the full width of the mower to eliminate uncut strips under the wheels and edge closer to foundations, fences and borders than other reel mowers
Unique grass discharge chute throws clippings forward cleanly, away from your feet
Cuts all grass types, even tough varieties up to maximum height of 100mm (4"). If the grass is over 150mm (6") height we suggest a slasher. It will just push the tall grasses and weeds over, leaving no ability to cut them off. However we do stress that like any cylindrical reel mower, it is not a slasher for mowing stones, weeds and paspalum.
Cutting width: 460mm
Dimensions of carriage: Mower raised - W: 545mm, L: 550mm, H: 320mm
                                       Mower lowered - W: 545mm, L: 615mm, H: 220mm
Weight of mower: 20.3kg
Designed in USA. Made in China to Fiskars exacting performance specifications
Our mowers are taken from the production run for

Fiskars Germany
Why not add the Fiskars StaySharp Max Grass Catcher 113883? Only needed when the grass clippings are long, but handy to have.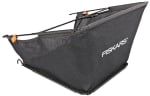 Limited 3-Year Warranty: Fiskars warrants to the original consumer purchaser that this lawn mower product is free from defects in materials and workmanship appearing under normal use within three years after the date of purchase. This does not cover damage to the lawn mower by abuse, acts of God or your failure to follow product instructions, mishandling or unauthorised repair. See the included Instruction Manual for further details.
Hint for when using this mower:
If the mower bogs in you are cutting too low. The height should be set so that the mower is always easy to push. You will end up with good green healthy lawn this way. There should be no scalping into root mass below the leaf as is common with rotary mower use. Only trim the grass leaf
Video 2: Blade adjustment if required - PLEASE READ BELOW BEFORE WATCHING VIDEO
You will need 10mm, 11mm and 1/2" ring spanners,( NOT 13mm as mentioned in the Fiskars mower Checking & Adjusting Video below). The earlier model requires 11mm for the side plates, not 1/2".
To replicate a blade of grass, use 5mm - 8mm wide strips of between 120gsm (0.135mm thick) and 140gsm (0.16mm thick) printer paper for checking the cutting gap adjustment. Common 80gsm printer paper is too thin.
Video 3: Sharpening with Auto Valve Lapping Compound & Electric Drill
Hint for removing the reel's sprocket 5mm in-hex grub or set screw:
You will need a high quality Sidchrome 3/8″ or 1/2" Drive 5mm In-Hex Socket or Allen Key. Often the grub screw is tight or bonded with Locktite compound. If tight, please preheat the sprocket with a Heat Gun or Hot-Air Gun set to 300 degC for 1minute to free up the grub screw. It will normally then easily come free with the 5mm in-hex spanner. If you don't follow this process you may strip out the 5mm hex of the grub screw
Need gloves?
For sharpening & servicing only (Australia wide), contact:
Sydney Roller Mower Centre, Seven Hills NSW