Aqualux Natural Brass Rectangular Wall/Steplight 24V-12V 4W LED AQL-520-BR
SPECIAL ORDER : Based on availability this may take between 3 - 14 days to fulfill - Please email or call us before placing the order for an estimated time of delivery
Only 4Watts. In-built LED light module. Runs on 12V-24V AC or 15V-24V DC power supply
Consider the 24V MultiVoltage LED CREE advantage.
Very long cable runs on 24V with 3.3mm² LV cable
Assembled in Sydney, Australia to order only. Please allow 10 working days before shipping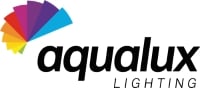 SPECIAL ORDER : Based on availability this may take between 3 - 14 days to fulfill - Please email or call us before placing the order for an estimated time of delivery
Wall mounted, downward facing, wall and step light with glass lens.
See our range of Steplights - (2 pages)
Latest version with an improved mounting bracket. The AQL-520 is the latest addition to the range offering a huge amount of light from a compact unit just like it's rounded sister the AQL-510. Designed to fit on 90mm posts, it is available in 5 finishes making it suitable for a variety of landscape designs.
Assembled in Sydney, Australia to order only. Please allow 10 working days before shipping

MultiVoltage 12V - 24V AC or 15V 24V DC capable
The latest technology in garden lighting
Please Note: This light fitting, as supplied, is basically air & watertight except at the connection to your low Voltage power supply cable. If the connection is inundated with water when the light is switched off, water will be drawn back up the cable into the fitting as it cools. Connections must be sealed to IP68 rating (water & airtight) to prevent electrical damage.
Features:
You will need to connect this 24Volt light fitting to

Low Voltage cable and a 24Volt Transformer

. You can connect it to an existing 12V system but in a new installation 24V MultiVoltage gives the advantage of long cable runs using thin cable
Screws horizontally directly to the wall or post (Hole spacing 58mm).
Rugged construction designed for optimal outdoor performance.
Solid cast brass with natural finish. It will age like a garden tap, unless you choose to regularly polish it with Brasso
Frosted glass lens.
Rubber sealed.
IP65 Rated .
Cable length (Fly lead) - 900mm Aqualux 2-Core Silicone / PTFE Cable.
Electrical: 12-24V AC or 15-24V DC in-built MultiSource Driver
In-built 4W LED, X06: CREE XBD x 3 LED light module.
Colour Temp: Approx 3000K (Warm White) or 5500-6000K (Cool White)
Light output: 250 Lumens (Similar to 20W Halogen output)
Dimensions: 87mm (L) x 40mm (H) x 40mm (D)
Weight: 0.60kg
For Aqualux 24V/12V Voltage Drop Calculator regarding cable sizing & distance, click link
Warranty:  3 year limited manufacturing fault and 3 year electrical fault
Manufacturer:  Telectran Aqualux