Aqualux Hydra Brass Aged Finish Eyelid Steplight LED 24V-12V 2.5W AQL-417-AB
Replaces previous design, coded AWL-01-BR-LED
Suitable for flush-mounting only. Cannot be recessed.
Only 2.5 Watts. In-built LED light module. Runs on 12V-24V AC or DC power supply
Consider the 24V MultiVoltage LED CREE advantage.
Lower Wattage - very long cable runs on 24V with 3.3mm² LV cable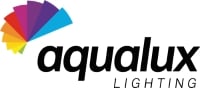 Replaces previous design, coded AWL-01-BR-LED
This new design has a neat cleaner profiled face. Wall mounted, downward facing, wall and step light with glass lens.
Suitable for flush-mounting only. Cannot be recessed.
See our range of Steplights - (2 pages)
MultiVoltage 12V - 24V AC or DC capable
The latest technology in garden lighting
Features:
You will need to connect this 24Volt light fitting to Low Voltage cable and 24Volt Transformer. You can connect it to an existing 12V system but in a new installation 24V MultiVoltage gives the advantage of long cable runs using thin cable
Screw directly to the wall or post - no core drilling required. Can be recessed into the wall if required.
Rugged construction designed for optimal outdoor performance.
Solid brass, aged bronze finished.
Frosted glass lens.
Rubber sealed.
Ingress Rating: IP65 Rated if screw holes and cable glands are sealed in a tradesman-like manner, but otherwise IP44 Rated
Cable length (Fly lead) - Twin flex insulated 20AWG wires approx 1000mm long.
Built-in 2.5W CREE XHP Chipset LED light module.
Colour Temp: Approx 3000K - Warm White
Light output: 120 Lumens (raw). (Approx to 10W Halogen output)
Dimensions: Base thickness 17mm, Eyelid projection 32mm, Lamp diameter 88mm.
Weight: 0.40kg
Please Note: To increase the water tight seal onto the wall surface, good trade practice is to put a blob of silicon sealant onto the rear of the backing plate at the cable entry gland and at the the four(4) screw holes where the fastening screws pass through prior to fixing to the wall or post.
For Aqualux 24V/12V Voltage Drop Calculator regarding cable sizing & distance, click link
Warranty:  3 year limited construction fault / 1 year electrical fault (subject to correct installation)
Manufacturer:  Telectran Aqualux