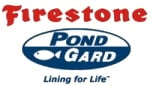 DO-IT-YOURSELF - view the Instructional Videos, download the Installation Guidelines from the Technical Information category or simply ring us. We are Firestone trained so can offer the best advice with experience dating back to 1996.
In this category, you will find Firestone approved accessories for Seam Splice Joining, Flashing, Patching and Adhering to allow you to get a professional result with your Firestone PondGard EPDM Rubber liner project. Also included are application tools. We offer the most comprehensive range available in Australia.
Their use must be in strict accordance with Firestone Lining Systems - Installation Guidelines.
Instructional Videos - For correct techniques when using these products.
Firestone EPDM Lining Systems Installation Guidelines - Detailed in the Technical Information